Poet U.B.

I Am An Artist In Everything I Do.

I have written and self published a Poetry book called

"The Left Side of Right"

based on my experiences with

Domestic Violence.
---
Excerpt from:
"The Left Side of Right"
Common sense is knowing the difference between simple rights and wrongs. Sometimes when you're in a complex situation right isn't always right, and wrong isn't always wrong. Sometimes there are exceptions to the rules... and sometimes the lines that separate the two are crossed, intertwined, and you can no longer see which side is left or right. It took me awhile to see that I was not doing the right thing or making the right decision for my family or myself. I was on "The Left Side of Right." You see, I associate the right side with being right and the left side with being wrong, because if it's not right it's wrong and if it's not right it's left.
Life changing decision making is never easy. Especially when others are involved, or when you have to make decisions for others as well as yourself. You always have family members judging every move you make. Rather than being there for you to help you and guide you, or even to just listen, they judge you. You may not hear it directly from their mouth, but you hear the gossip and the hearsay. I've made some bad decisions in my life but I've always been able to turn them around and overcome the situation. This situation that I was in...I was so confused, my mind was cluttered, and my thoughts were crowded. I knew what I needed to do, but actually doing it was the hardest step ever. It sounds easy enough just to go away and the plans are easy to make. Just pack your things and go. Just wake up early, get the kids, the bags, and get in the car and drive. It's not that easy. Emotions come into play and fear takes over you. The "what if's" start creeping into your head. Sometimes, I would pack the bags, wake up early, get the kids ready, get in the car and just go to the grocery store. I don't know what fear was greater. I feared not having the physical person there with me regardless of the abuse. I feared starting my life being a single parent. I feared a new beginning. I feared beginning a new relationship. It's harder to leave than it seems.
The solution that worked for me was redefining my relationship with God. God helped me uncross and define my left from my right. Now I knew I had to step over the line. I had to leave the left side. I had to get back on the right side, making the right decisions for myself and my kids.
So I took one last look.
I leaped.
I finally left.
I left "The Left Side of Right."

-Poet U.B.
Poem from "The Left Side of Right":
No Longer Scarred
Seems like my life
Always takes the wrong path
The sharpest knife
Couldn't justify my deepest wrath.
But who are you to judge
If I'm wrong or right
Here, use my shoes to trudge
Through the mud and fight
The battles I've faced.
There's no defining line
In this life race.
They become intertwined.
White is black,
Black is white,
And you can't take anything back
Once the fist is in flight.
Ever changing emotions
Causing confusion and fear
Internal commotion
Your vision's no longer clear.
But I would rather
This anger disappear
My heart can't take anymore
Hurt, please don't stay near.
I made the choice
I'm choosing you
I'm sharing my voice
I'm sharing my truth.
My left side of right
No longer has a hold on me,
I'm living despite
His death threat guarantee.
Now my faith is greater
Than any ocean by far
I am in His favor
He is healing what I thought were scars.
Powered by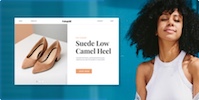 Create your own unique website with customizable templates.